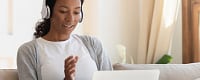 COVID-19 Consultation Conversation
About the COVID-19 Consultation Conversation
The coronavirus has dramatically changed how we live our lives, and in the process, it's created many questions and challenges about how to cope. Since the start of the COVID-19 pandemic, the Center of Excellence on Infant & Early Childhood Mental Health Consultation team has shared how states and local programs are responding to COVID-19, launched a COVID-19 connection portal to ask questions, send information/resources, or request technical assistance specific to the pandemic, and is planning to host affinity groups to support consultants and consultation program leaders in the field. This conversation will be an opportunity for all of us to share our knowledge and support one another through these unprecedented times.
Event Overview
The Center of Excellence offers virtual events as a way to connect and provide participants an opportunity to discuss concerns, share their approaches and learn more about how the field of mental health consultation has pivoted in these times to support young children, their families and caregivers and their early childhood systems. 
Facilitators
Dr. Neal Horen: Dr. Neal Horen is the Director of the Center of Excellence and a clinical psychologist who has focused on early childhood mental health for the last twenty years. He is Director of the Early Childhood Division for the Georgetown University Center for Child and Human Development. Dr. Horen is considered one of the leading national experts on early childhood mental health and early childhood systems. Dr. Horen has worked closely with all 50 states, numerous tribes, territories and communities in supporting their development of systems of care for young children and their families, as well as in Mexico, Lebanon, and Jordan. Dr. Horen has helped to developed innumerable materials related to infant and early childhood mental health consultation including training guides, evaluation guides, monographs and he also continues to be active in providing mental health consultation as part of his clinical practice.
Lauren Rabinovitz: Lauren Rabinovitz, MPH, MSW, LCSW-C is a Senior Policy Associate at the Georgetown Center for Child and Human Development, Early Childhood Division. Lauren is the Program Director for the SAMHSA funded Center of Excellence on Infant and Early Childhood Mental Health Consultation. Lauren brings a unique perspective to policy, research and technical assistance based on many years of clinical and community mental health provision. Lauren is a Licensed Clinical Social Worker with specialized training and experience in Early Childhood Mental Health. Lauren's passion is the intersection of early childhood and population health.
Dr. Sherry Heller: Sherryl Scott Heller, PhD is currently an Associate Professor in the department of Psychiatry and Behavioral Medicine at Tulane University School of Medicine and a member of the Tulane Institute of Infant and Early Childhood Mental Health, is an international leader in reflective practice, mental health consultation and evaluation of mental health consultation programs. Dr. Heller directs the Tulane Early Childhood Relationships Support and Services (TBEARS), a home visiting program, affiliated with the Fussy Baby Network, which supports caregivers who are struggling with their infant or toddler. Dr. Heller also provides, researches, and trains in early childhood mental health consultation to childcare. Dr. Heller has been a senior supervisor on the LA statewide ECMHC program (TIKES) for over 10 years. Dr. Heller presents regionally and nationally on the DC:0-5 Diagnostic Classification of MH and Developmental Disorders in IEC, ECMH, MH consultation and reflective practice.
Here's a quick guide to using Zoom during our live events:
We encourage you to start your video so we can all see one another by clicking on the video icon in the bottom left corner of your screen
If you'd like to ask a question live during the Q&A, click on "Participants" at the bottom of the screen. You will then see a panel and several icons open up on the right. Use the "raise hand" icon if you're interested in posing a live question
After raising your virtual hand, you'll hear from one of our hosts via the "Chat" box on the bottom right of the screen. You can also use the "Chat" feature if you have any technical issues or questions
Click on "Reactions" at the bottom of the screen if you want to give a virtual applause or thumbs up in response to what the speakers are saying.